When ClientWon plans a meeting or training event there are always three questions that we first ask:
Training: Is the purpose and meeting objective simply to transfer knowledge from the trainee group from the trainer?
Facilitation:  Is the purpose of pulling information from the group and building consensus?
Blended: Do you want it to have a little bit of both – knowledge transfer and pulling from attendees?
ClientWon has developed an interactive and engaging 4 Hour and 6 Hour events  (One-day session for groups 5-30 people) which cover some of the most important aspects for creating amazing meetings. Our owner was certified in 2014 and has conducted dozens of sessions. Each attendee will receive a level 3 energy session and attendees will have a chance to practice these skills.  They will also have lifetime email support from their facilitator.
Corporate Sessions – At your company's facility
Click Here to Sign up for Corporate session at your business  We will come to your business and use your facilities. Local Illinois and Southern Wisconsin Residents the cost will be $795 for the 6-hour session.  Clients outside IL will need to pay for reasonable travel expenses in addition to $795 fee.
Pre-work and Preparing For Success
Getting the Session Started – very specific tools
Getting the Group Focussed
How to Make any Meeting Interactivfe
The 50/10 Rules
The Power of a Pen
Gathering Infromation
Mlanaging Dysfunctional Behavior
Reaching Agreement
Keeping the energy high (see graphs below)
Closing the Session
Creating Agendas
Energy and Authenticity (Courtesy Leadership Strategies
Whether you are leading a single two-hour meeting or a series of half-day sessions, a degree of energy is essential to keeping the group interested and engaged.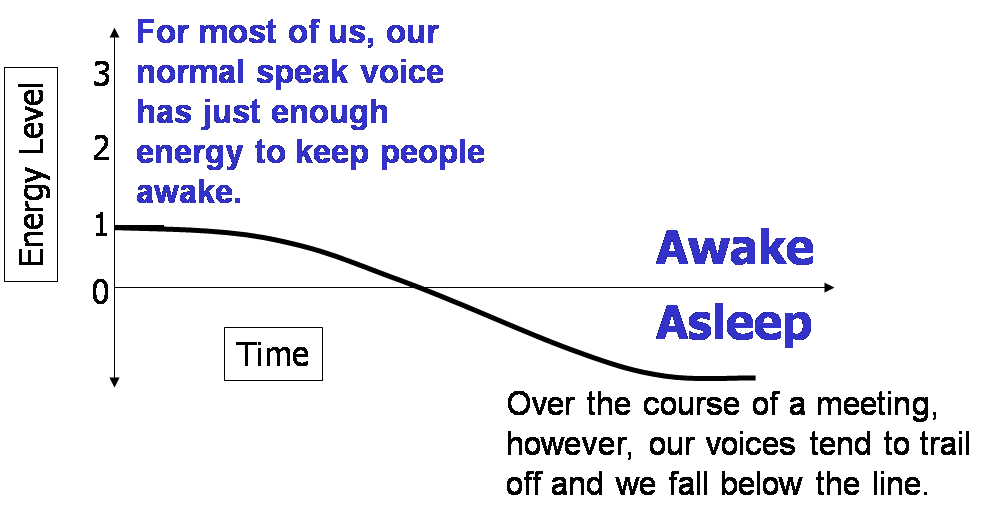 In our flagship course, The Effective Facilitator, we teach the importance of facilitators starting most sessions at level-3 energy.
We then go through an exercise where participants gain feedback from the class to help them find their level 3.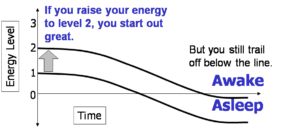 Yet, when we teach level-3 energy in our training classes, we often hear a comment such as, "I'm not sure I could do level-3 energy in my sessions.
It seems so inauthentic. It's not me. I would feel like I am trying to be a game show host." And of course as facilitators it is important for each of us
to be authentic and to be comfortable with the strategies and tools we use in our facilitation.